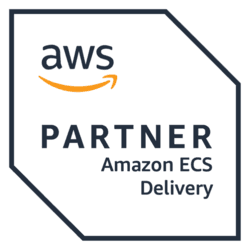 We are happy to share another great achievement: We have successfully achieved the Amazon Web Services (AWS) Service Delivery designation for Amazon Elastic Container Service (Amazon ECS). This confirms ByteSource's expertise in running containerized production workloads on Amazon ECS and AWS Fargate according to AWS architectural and operational best practices.
During the journey of application modernization, businesses often encounter several challenges like identifying the most suitable architecture, lack of knowledge or resources to containerize the existing applications, establishing a new deployment workflow, operating or optimizing the workloads, and much more. Therefore, they often rely on AWS Partners like ByteSource for comprehensive support. As an Amazon ECS Service Delivery Partner, we have proven specialized expertise in helping organizations to build scalable, reliable, and secure container platforms using both managed and serverless computing methods that are ready for production.
The AWS Service Delivery designation for Amazon ECS Delivery distinguishes AWS Partners who have demonstrated the ability to consistently deploy and operationalize solutions at scale with customers.
If you want to know more about how ByteSource can help you with running containerized workloads on AWS, read here