These days, it's common for many individuals as well as businesses to move to the cloud. Even committed traditionalists are making the move. However, the cloud setup for companies is complex due to the high amount of data and many things must be considered, such as the availability of appropriate resources. With the right provider, the cloud brings many advantages, however, there are companies that are skeptical and therefore resort to on-premise installations, due to the short-term cost savings. But what is so special about the cloud and why are more and more companies now switching to it? You may even be involved in a discussion yourself, about moving to the cloud, in your company's technical infrastructure. Get ready for the change by reading on now.
5 reasons highlighting that the cloud is beneficial to any business and increases success.
1.) Rapid and cost-effective scaling in the cloud
Scaling quickly enables businesses to overcome many challenges, which brings some benefits such as solving customer problems, increasing profits, or doubling the usage of products overnight. Scalability is the availability of computing power, server storage and resources, these features can be customized to meet business needs. They can be increased or decreased, for example, with more computing power you need to scale up the server capacity accordingly. However, many forget that everything can go down in one fell swoop because you don't have scalable technology and other resources needed for it. It should also never be ignored that the lack of technologies that support development can result in a stressed team and dissatisfaction on the part of customers. Similarly, there should be a flexible and responsive technology stack in place to avoid expensive and manual upgrades. Paying attention to all these points, you will get amazing results. Another key point why you should move to the cloud is that for on-premises servers, technicians need to estimate how much processing power and how many servers are required. By estimating incorrectly, the number is too high, and you end up paying for resources but not using them in the end. However, if the figure has been set too low, the result is that long and costly upgrades and customer losses are incurred. In the worst cases, it causes congestion, slowdowns or even technology failure, which is a costly and time-consuming process.
With the cloud, you can grow without technical issues and in comparison to on-premises servers, you can scale faster, more automated, smarter as well as cheaper in the long run.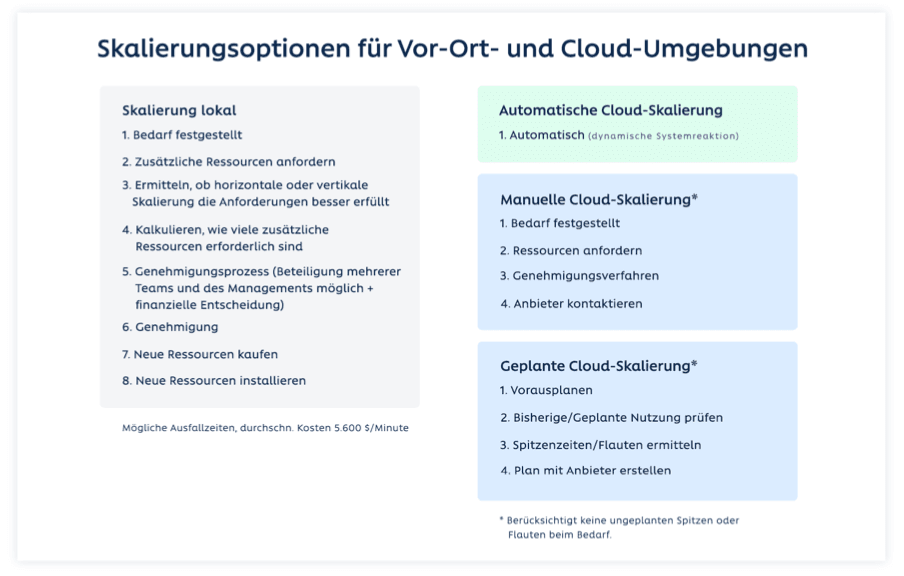 Security while scaling in the cloud
Don't worry, securing data during and after migration is a top priority in the cloud. In fact, about 94% of the companies surveyed said their security in the cloud improved significantly after migration. During migration, data in transit is protected by the cloud through rigorous security testing, disaster recovery plans & encryption.
2.) Increase profits in the cloud (and reduce admin costs)
At first glance, monthly subscription costs seem expensive, but if you consider the long-term value of an on-premise environment then this has the effect of reducing profits. Why? Because the costs are hidden for the first time in a local environment. Because system downtime can cost up to 3 times as much in a few minutes or hours as an annual subscription to the cloud. If you switch to the cloud then you definitely have the advantage that the IT effort as well as the resources are reduced by half. It's all in the eye of the beholder. Would one prefer to act in the short term or in the long term? Remember. Outages are always costly and can not only result in lost revenue or penalties, but can cause salary increases due to overtime or on-call IT staff. To avoid extra expense costs and losses, it would be much better if your cloud provider solves the problems, right? Atlassian Cloud has all the necessary resources to resolve an outage quickly and without extra costs.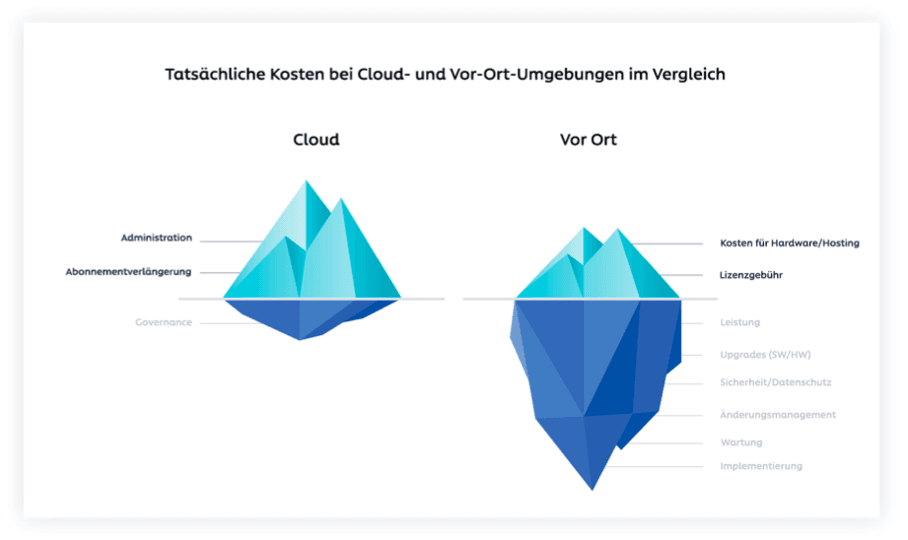 3.) Improved speed
It's no surprise that you need to be competitive in today's world, that's where speed of processes often comes into play.
Better speed can be provided through these 6 factors:
Better network performance
Availability guarantee
Automatic performance improvements
Faster product development and deployment
Automatic scaling and load balancing
Standardization
As a result, 42% of enterprises surveyed believe that the primary reason for migrating to the cloud is network improvement. After all, the larger a company, the more performance matters.
Not only is network performance accelerated with the help of the cloud, but also the provision of IT services. Comparable to local hosting, the cloud option is significantly better, as locally computing power is always limited and only a certain number of servers and services are available. In the event of a rapid and unexpected increase in the number of users, systems could slow down significantly or even fail completely.

4.) Improve productivity in the cloud
There are a few ways to improve your company's productivity. You can hire top talent, improve engagement, reduce interruptions, reduce meetings, promote psychological safety, or even remodel office space. Another option, however, is to move to the cloud. According to an Office 365 survey, about 80% of IT professionals said that moving to the cloud has improved their productivity. Low productivity costs businesses $7 trillion per year. Cloud tools offer productivity benefits for every team, from marketing and HR to sales and beyond. The cloud helps employees: inside collaborate and helps prioritize creative and strategic work.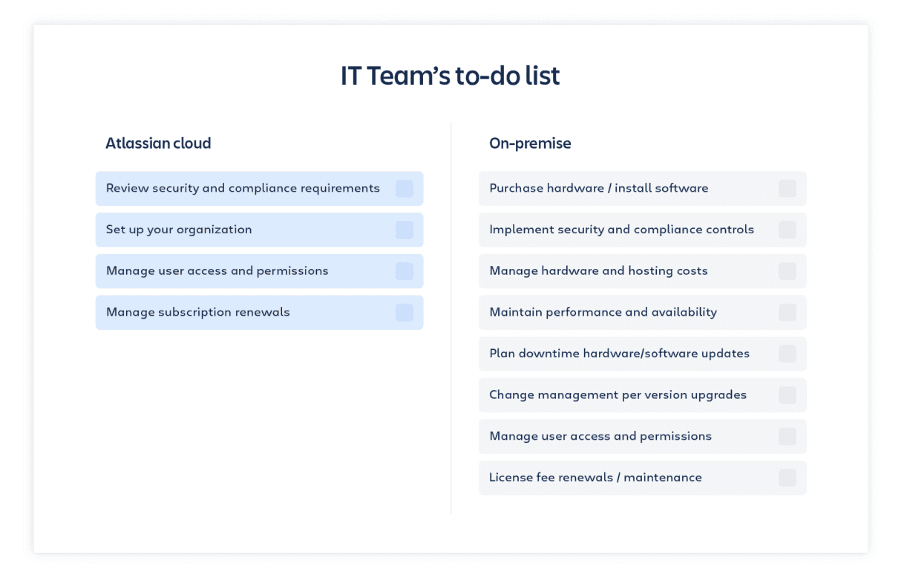 5.) Preparing teams for the future in the cloud
Ten years ago, moving to the cloud was about securing a competitive advantage. Today, it isn't. Now, you want to keep up with the competition and provide customers and employees alike with the services they expect. Because new features are delivered on a regular, smaller scale in the cloud, teams can keep up with changes more easily and don't have to learn new skills month after month. Instant access to the latest features not only keeps teams competitive, but also flexible and connected to systems.
If you haven't migrated to the cloud yet, now would be the ideal time. Yes we know cloud migration is very complex and support during the migration is necessary. Whether you want to work with an expert to find the best path for your business to the cloud, figure out how to merge instances yourself, or there is a need for a customized API, our Experts at ByteSource can guide and advise you through your migration to the cloud.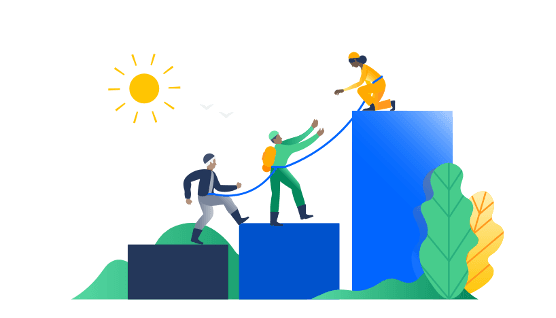 Not sure where to start planning your migration? Then get in touch with one of our ByteSource Experts today.
Source: https://www.atlassian.com/de/whitepapers/5-reasons-to-move-to-the-cloud