IT Service Management (ITSM) refers to the methods and practices that IT teams use to deliver IT services to their customers from start to finish. It can be thought of as a bridge between IT and customers, encompassing all processes and procedures involved in planning, assembling, delivering, and supporting IT services for internal and external stakeholders. ITSM is based on the core idea that IT should be provided as a service, enabling businesses to achieve their goals more efficiently. Common examples of ITSM implementation include fulfilling requests for new hardware like laptops or mobile phones, managing servers for the smooth operation of an online business, providing resources for data analysis, and addressing security issues. In such cases, users would submit a request through a portal, create a ticket with all the necessary information, and initiate a standardized workflow. The ticket would then be added to a queue, where incoming requests are prioritized and addressed according to urgency.
In the IT industry, there is a prevalent mindset that a proper approach to ITSM should involve these three steps, in this order:
Developing and implementing IT technology.
Introducing and enforcing the right processes.
Enabling employees to learn the technology and adhere to the processes.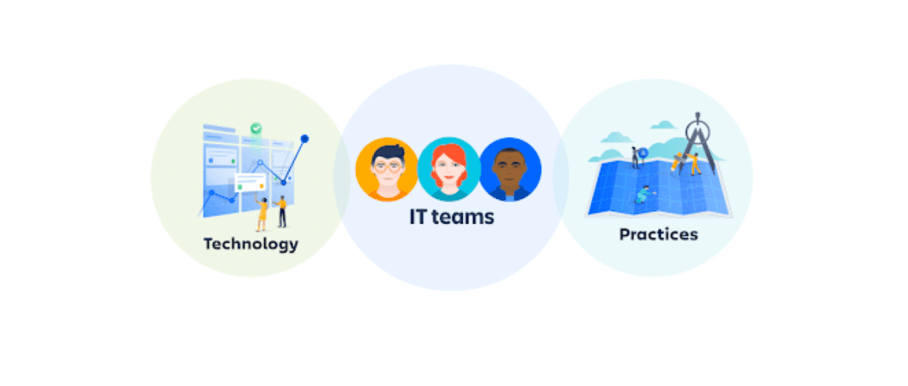 What happens when the team is the focus of the ITSM processes?
When the team is at the center of ITSM processes, it means that instead of being bound by rigid rules imposed by a hierarchical reporting structure or inflexible processes, IT teams have the opportunity to make informed decisions. For example, they can drive the implementation of service level agreements (SLAs) and the selection of software to be used. As IT teams increase productivity and promote digital transformation, they become crucial for the strength of a company. A successful approach relies on frameworks like ITIL and considers the needs of customers. Good ITSM software promotes cross-team collaboration and enables IT to reach other departments within the organization. It supports end-users and automates everyday tasks, giving everyone more time for what truly matters. Technology can sometimes be a hindrance when it is complex or frustrating, but when it works well, it feels almost magical. However, behind that magic lies the hard work of the teams that utilize it. When the IT team is at the center of ITSM processes and technologies, it can leverage its knowledge to improve the efficiency, reliability, and quality of the company's IT services.
ITSM, ITIL, and DevOps
IT teams align their work using various frameworks and standards. Among the most commonly used ones are ITSM and DevOps. However, there are also numerous other concepts such as COBIT, SIAM, IT4IT, Lean, to name a few. In this context, we will focus on two significant frameworks for modern IT teams - ITSM and DevOps - as well as a shared approach to ITSM, ITIL.
ITSM
Some of the key ITSM processes include:
Service request management
Knowledge management
IT asset management
Incident management
Problem management
Change management
ITIL
ITIL is the most widely adopted approach to ITSM. It focuses on best practices for aligning IT services with business requirements. ITIL can help organizations adapt to ongoing transformation and scale. ITIL 4, the latest update to the ITIL standards, represents a paradigm shift for IT teams. It provides teams with a holistic framework aimed at delivering business and customer value, promoting a more flexible approach based on your team's way of working. The ITIL 4 guiding principles support collaboration, simplicity, and feedback. ITIL is sometimes mistakenly seen as rules rather than guidance that allows for interpretation. However, just because we utilize processes and need to document work doesn't mean we should generate unwieldy amounts of records and bureaucratic overhead.
DevOps
DevOps focuses on accelerating the delivery of IT services through agile and lean practices. DevOps improves collaboration between development and IT operations teams, enabling companies to develop, test, and release software faster and more reliably. Benefits include increased trust, faster software releases, quicker resolution of critical issues, and improved management of unplanned tasks. While DevOps encompasses continuous development, integration, and automated deployment, the concept is based on building a culture of collaboration among teams that previously operated in relative isolation. DevOps is mainly about leaving behind old divisions and working together.
Benefits of ITSM
A brief overview of the most common benefits of ITSM includes:
Facilitating cross-departmental collaboration
Bringing together IT and development teams through optimized project management approaches
Providing resources for knowledge sharing and continuous improvement for IT teams
Improving request coordination for more efficient service delivery
Enhancing customer orientation with self-service offerings and optimized processes
Faster response to major incidents and prevention of future incidents
All of this reduces costs and leads to better service delivery
What to consider when selecting ITSM software and tools?
ITSM software allows IT teams to align with business requirements and adopt a strategic approach to business transformation and growth. There are various ITSM software tools on the market, ranging from standalone applications to platform services. IT teams often complain that the traditional ITSM tools they use are inflexible and difficult to adapt to new requirements. Typically, there are also different tools for different ITSM processes. Modular tools create barriers and result in silos, leading to a lack of visibility among teams. Traditional ITSM tools are often challenging to deploy and manage. End users often avoid using tools that are not intuitive, resulting in poor or nonexistent self-service ITSM capabilities. When implementing IT Service Management (ITSM), selecting the right service desk software is crucial. According to ITIL, the service desk serves as the central point of contact between the service provider and users. It manages incidents, service requests, and handles communication with users. Additionally, the service desk should play a significant role in managing other ITSM processes. Therefore, finding suitable service desk software is important to support effective communication, incident and problem management, and other ITSM processes optimally.
Does your service desk and other ITSM tools meet the following requirements?
• Ease of use and setup - provides a clear, intuitive self-service portal that simplifies the request for help, information search, and tracking of progress. • Enhanced collaboration - offers a platform for developers and cross-functional teams to collaborate on faster problem resolution. • Customization to your requirements - is flexible enough to support any conceivable solution, escalation, or change process your IT teams develop.