Data Center & Server Price Changes 2023
This is what you need to know now: On February 15, 2023, PT, Data Center and Server prices will increase. Find out what it means for you and how to proceed by reading on now!
All at a glance: Where is what increased?
For Server instances, Atlassian is increasing both list and benefit prices for Jira and Confluence. However, for Data Center, Atlassian is only increasing the benefit prices for Jira software and Confluence.
Data Center
For Data Center, a price increase will be applied to the advantage price.
Data Center advantage price plans will be increased by 15 %.
Here you can find the future price table for Data Center products.
Server
For Servers, there will be a price increase at both advantage price and list price.
Server advantage pricing plans will increase by 15 - 25 %.

Server list price plans will increase by 0.5 - 15 %.
Here you can find the future price table for Server products.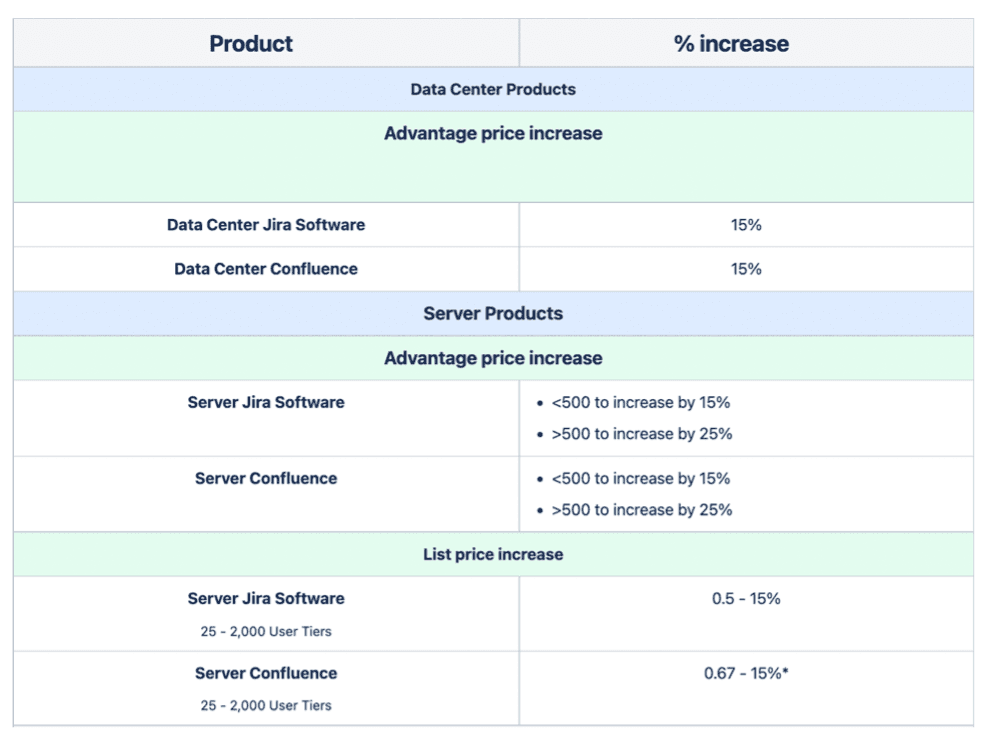 And why?
Data Center products are continuously improved to increase large-scale performance, native product features, and end-user value. Server pricing adjustments are justified by ongoing maintenance and support for platform enhancements, security patch updates and feature maintenance.
How can you prepare for the price change?
You can take advantage of lower prices by:
Renewing your licenses or purchasing new products before the effective date, February 15, 2023, PT (lock in the current price).

Taking advantage of loyalty discounts before they expire.

Take advantage of an extended trial before it expires.
End of support for servers
We also want to remind you, as part of the pricing adjustments, that on February 15, 2024, PT there will be an end to the sale or installation of new server applications on the Atlassian Marketplace. However, you can continue to be supported and benefit from ongoing innovation by migrating to cloud or data center products with our help. Since we know this is a big change, we are the right partner for you. We will find the most efficient solution for you, plan it and implement it.
Do you have any further questions? Just contact us so we can work with you to find the most ideal option for your business!