After a lot of planning, much sweat and hard work, it was finally time for the DevOps | Cloud Day `22 that took place on October 4, 2022, organized by Founder & CEO Alexander Penev. We at ByteSource, the leading Atlassian Platinum Solution Partner and AWS Advanced Tier Service Partner, cordially invited you to dive into the event's planned themes: DevOps, Cloud and Software Development, combined with the unique charm and culinary expertice of Vienna's Kursalon Hübner.
We would like to give you the opportunity and once again take you back to the DevOps and Cloud world for a few minutes, as we are convinced that there was something for everyone there; from innovative products, solutions to new ideas.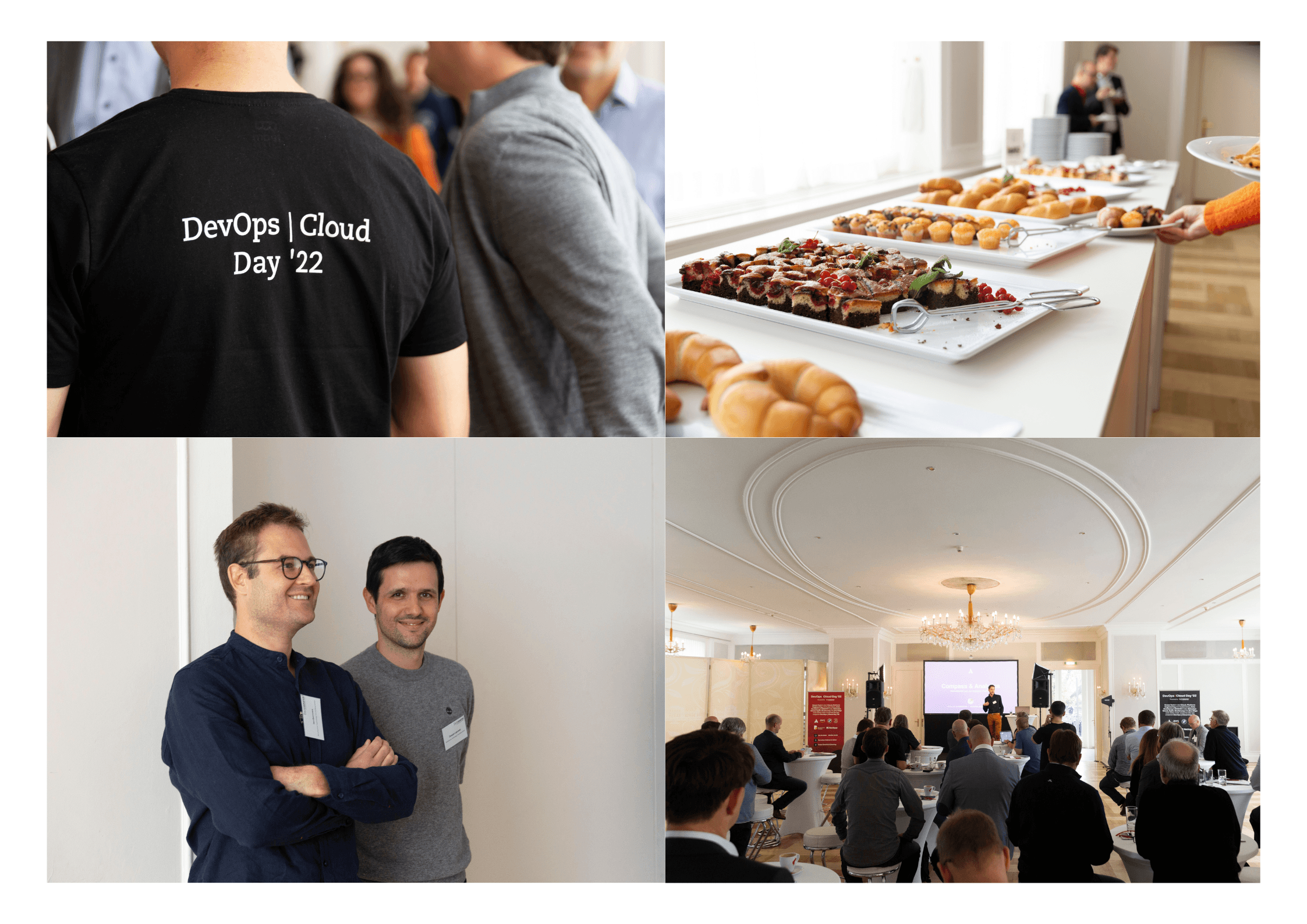 What topics were discussed at DevOps | Cloud Day `22?
Project presentation Hutchison Drei Austria GmbH & Bytesource
"Kubernetes brauch ma unbedingt!"
Andreas Ullmann, Head of Infrastructure Services at Hutchison Drei Austria GmbH, and Christoph Kappel, Senior Consultant & Team Lead at ByteSource, presented the development of a central container platform at Hutchison Drei Austria. The key to the success of the project presented was the establishment of a dedicated platform team with clearly defined responsibilities. Another equally exciting point was not to disregard the relevance of internal sales; in this regard, broad feedback from various company departments was requested and obtained during the project.
Atlassian
GDPR - compliant action & product news
There was also a lot of exciting input from Atlassian. Nicolas Baumeister, Channel Manager of the DACH region at Atlassian, informed us about "Atlassian Cloud and Data Protection Regulation". The ,,Data Processing Addendum'' (DPA) was also presented. This document helps to meet the data sharing requirements under the General Data Protection Regulation. Further, updated changes are that the contracting parties can now specify the applicability of a particular national law and also choose an EU court location. Speaking of new products, Nicolas Baumeister presented new products, focusing on "Atlassian Compass" and "Atlassian Analytics." "Compass" helps companies keep track of distributed architecture. Not only technology but also often dispersed teams of developers. "Analytics", in turn, assists with comprehensive data visualization across all Atlassian products and third-party systems.
Agile scaling - with Jira Align
Frank Blasa, Senior Enterprise Solutions Advocate at Atlassian, spoke about Jira Align. Here, the question was how can I introduce agile frameworks within the company and thus create an agile organization on all company levels. Especially in large companies, it is important to plan business strategies in an agile framework and to make them scalable across the entire company. Jira Align from Atlassian supports you on your way to agile and digital transformation and is an excellent tool for agile project management at large companies.
Project presentation BMW & ByteSource
How do you make 160,000 Atlassian users happy?
Happy users? That's no problem with the Atlassian Datacenter in the AWS Cloud. BMW & ByteSource took care of that. Johannes Stadler and Matthias Krauss, both IT Specialists in BMW Business IT for the Agile Tool Chain (ATC), provided insights and information on developing a platform where all tools are centralized and tool chains are greatly shortened. The issue: On Premise, those responsible had reached their limits due to performance difficulties during peak loads. The solution: Through the cloud journey, which was supported and accompanied by ByteSource, BMW Business IT now has the possibility to scale freely. BMW's conclusion: "We are no longer in constant firefighting-mode, we can now provide reliable services".
AWS
One Observability with AWS
Christian Dorner, Senior Solutions Architect for Partners & Alliances at Amazon Web Services, focused his presentation on the differences between monitoring and observability. Monitoring: It's about measuring. Observability: It's about analysing the measurement data, for which AWS provides the tools CloudWatch Logs, CloudWatch Metrics and AWS X-Ray. The new workflow presented by Christian Dorner offers that the analysis processes run in parallel, and thus significantly more time is saved.
Burgenland Energie
How does a small energy provider become a GreenTech champion?
The very timely topic of Green Tech, i.e. sustainable IT, was also in our minds. Christoph Schmutz, CIO of CEYOND Group, who presented on behalf of Burgenland Energie, outlined the exciting transformation from a small energy provider to a Green Tech Champion. This process took place through some supporting components. State-of-the-art DevOps technologies, AWS, Atlassian, GitHub and ByteSource were involved in the implementation.
NetApp
Continuous Delivery in the Cloud
Want to minimize costs? Choose the cloud. Martin Weilhartner, Enterprise Systems Engineer at NetApp, told us how to guarantee the maximum performance of continuous delivery in the cloud in a secure, cost-optimized, fully automated way, with constantly generated optimizations and minimal costs.
Are we excited?
Yes, definitely, and we will still vividly remember our stimulating conversations and the exchange of new ideas through networking. A big thank-you goes out to everyone who attended and if you were unable to attend this time, we would love to see you at our next event!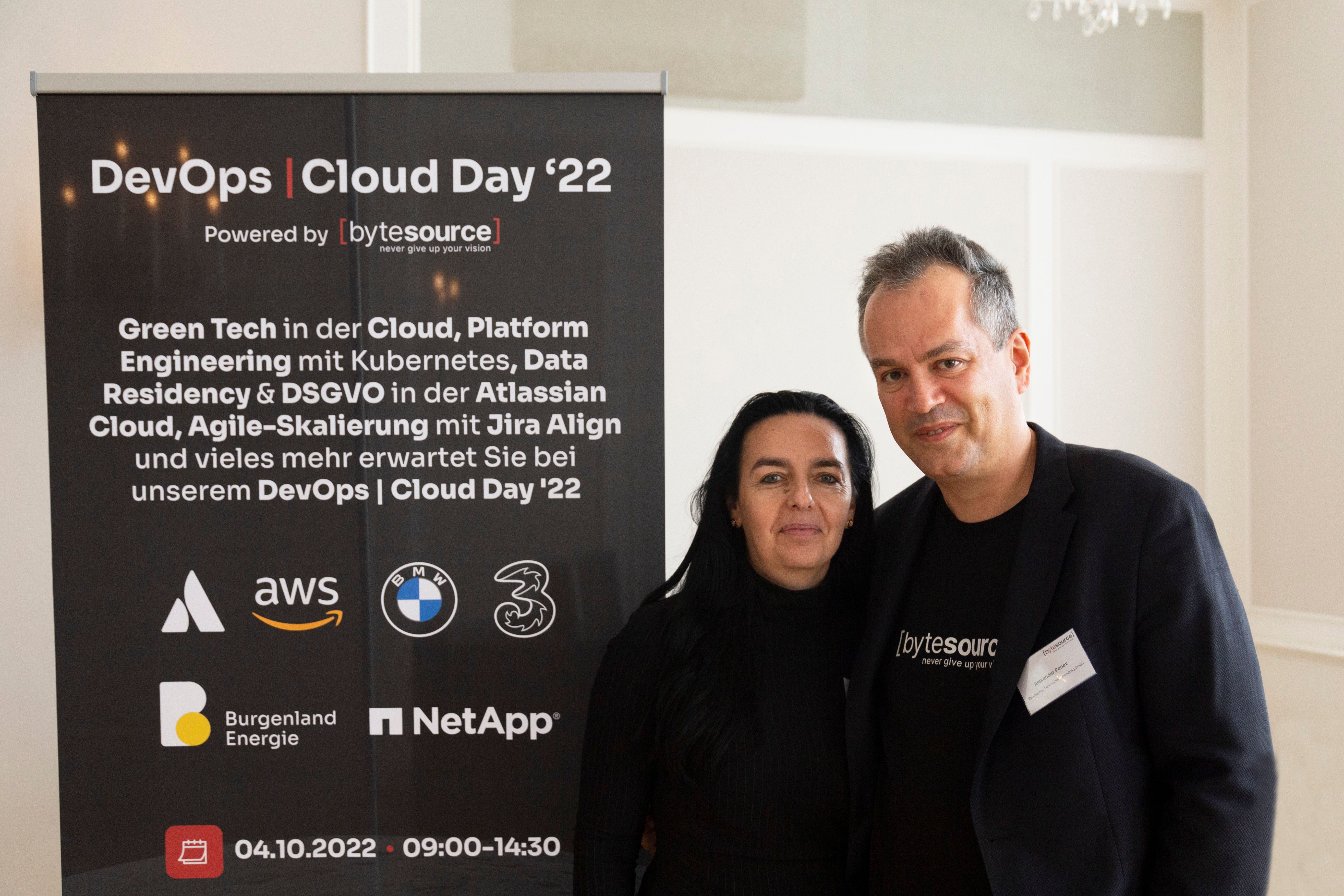 If you are interested in one of our accompanying solutions for your company, or if you have any further questions, contact us under contact@bytesource.net or please use our contact form here. We will take care of your request as soon as possible!