In recent years, artificial intelligence (AI) has made enormous progress and allows us to achieve things that were previously considered impossible. Atlassian introduced its own AI, Atlassian Intelligence, at the Team '23 event. This AI is designed to improve Atlassian's cloud-based products and provide an even better working environment for users. In this blog article, you can learn more about the features of Atlassian Intelligence.
What features does Atlassian Intelligence include?
Creating, Summarizing, and Extracting
Atlassian Intelligence uses OpenAI's generative AI technology to analyze, interpret, and summarize content to help your team work faster and more effectively. With Atlassian Intelligence, you can optimize your workflows by automatically extracting relevant insights from your data, saving you time and effort.
Enabling users to work more efficiently by, for example, summarizing meeting minutes in Confluence, defining new tasks in Jira Software, or managing customer support tickets in Jira Service Management.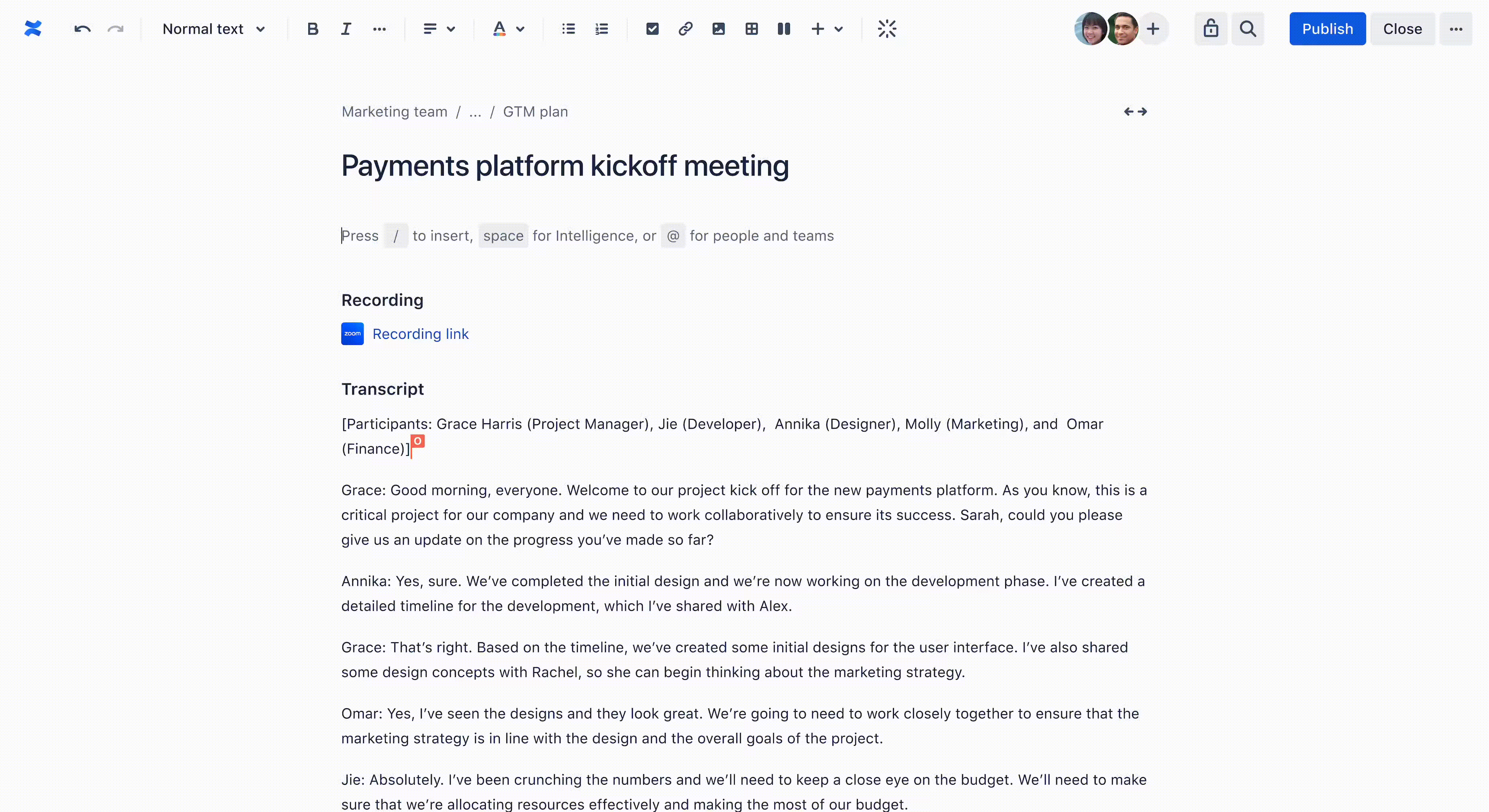 Explanation: A marketer asks Atlassian Intelligence to write tweets to prepare for a product announcement.
Defining test plans for product updates in Jira Software. Explanation: A product manager asks Atlassian Intelligence to outline the operating systems to test an update.
Virtual Agent
Jira Service Management has expanded its capabilities with a virtual agent that provides users with immediate assistance around the clock. This virtual agent can automate support interactions and is integrated directly into Slack and Microsoft Teams, allowing employees to receive help without having to leave their preferred collaboration tools. Additionally, the agent can forward recurring requests on behalf of the support team, allowing them to focus on more important tasks.
Immediately responding to help requests based on understanding knowledge base articles. If necessary, it can also ask follow-up questions to take the necessary actions. Explanation: A Jira Service Management virtual agent (named Charlie) helps a team member access software.
Summarizing activities related to help requests to bring assigned agents up to speed.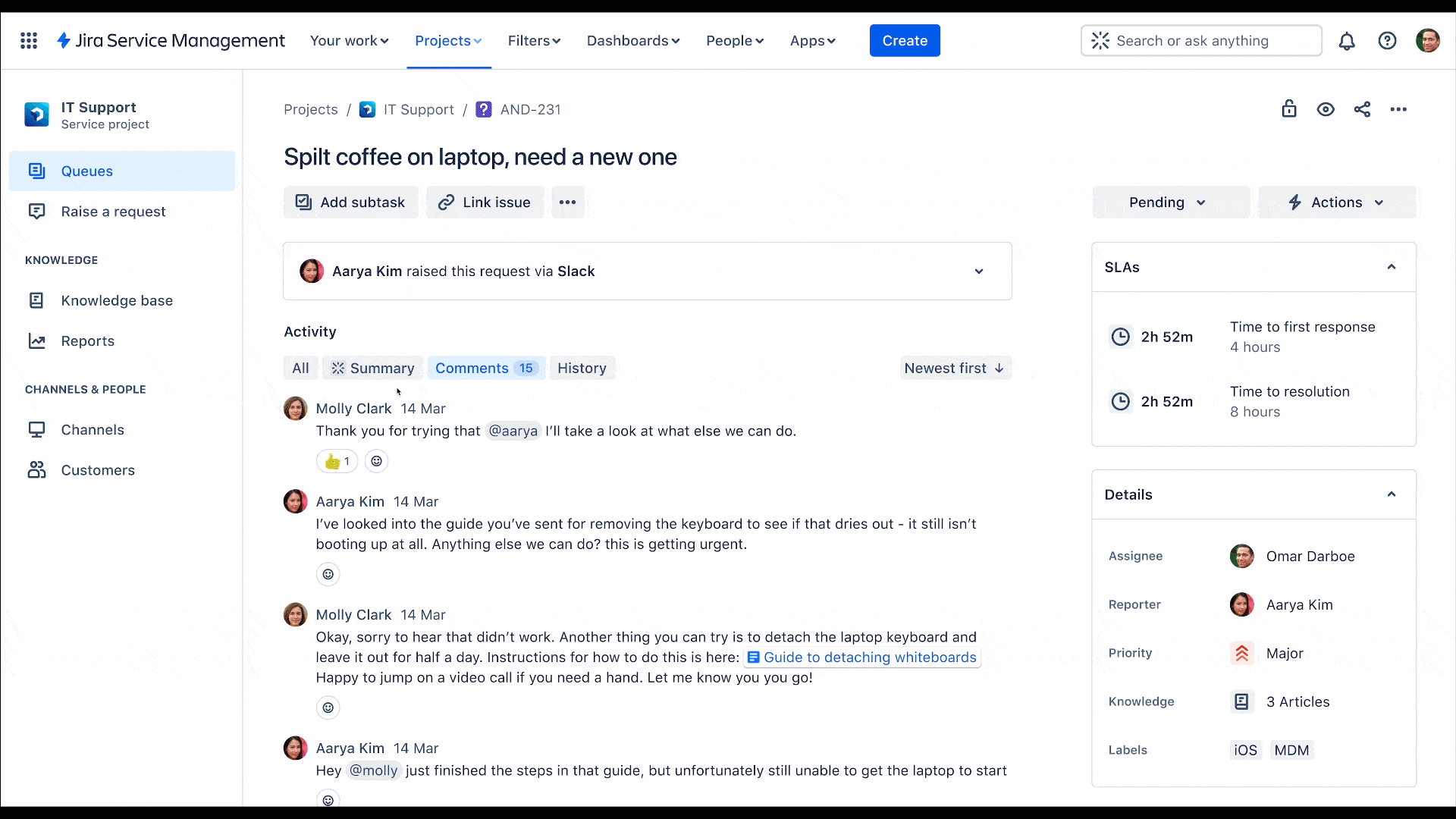 Explanation: Atlassian Intelligence summarizes activities related to a request in Jira Service Management for a human agent.
Helping to find thoughtful responses to calm customers in stressful situations. Explanation: A human agent asks Atlassian Intelligence to adjust the tone of their response to the situation.
Explaining Knowledge and Terms
As an organization grows, the knowledge and terminology used to describe projects, systems, and abbreviations also become more complex. It can be difficult to develop a shared understanding of these things and know who is knowledgeable about them.
Atlassian Intelligence offers a solution to this problem through an on-demand dictionary specifically tailored to the company, teams, and their work. Users can highlight a term and ask Atlassian Intelligence to provide a definition, information on the source of the term, internal subject matter experts, and connections to related work based on the teamwork diagram. This allows users to quickly and easily access the information they need, improving productivity and collaboration within the team.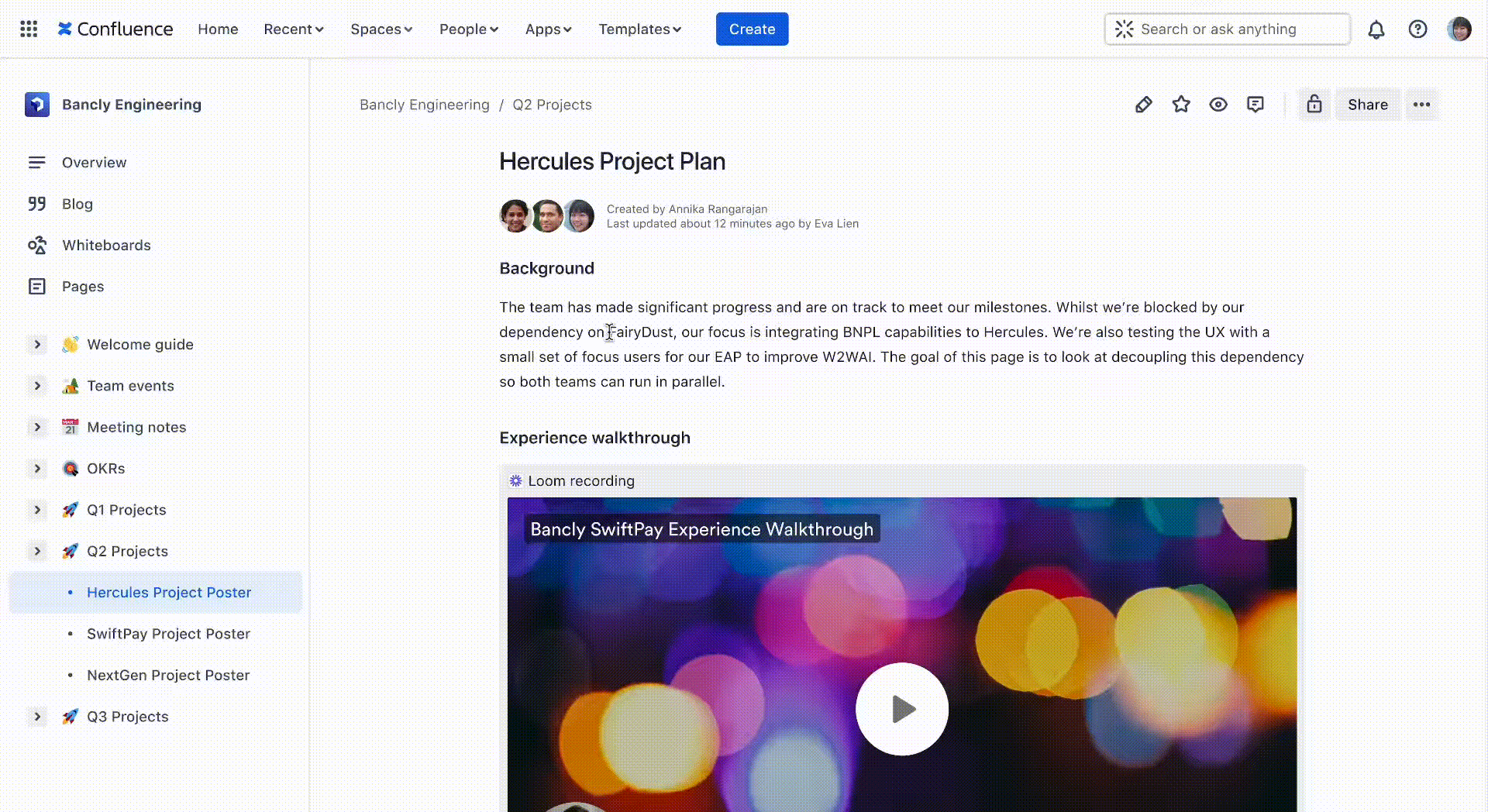 Explanation: Atlassian Intelligence explains an institutional term to a team member reading a Confluence page.
Answer Anything
Atlassian Intelligence can understand and help you answer questions in natural language (Atlassian Intelligence understands all languages supported by Atlassian Cloud products.):
Answer questions about institutional knowledge and corporate policies in Confluence, such as "How much can I spend to set up my home office?" and "How do I set up my development environment?"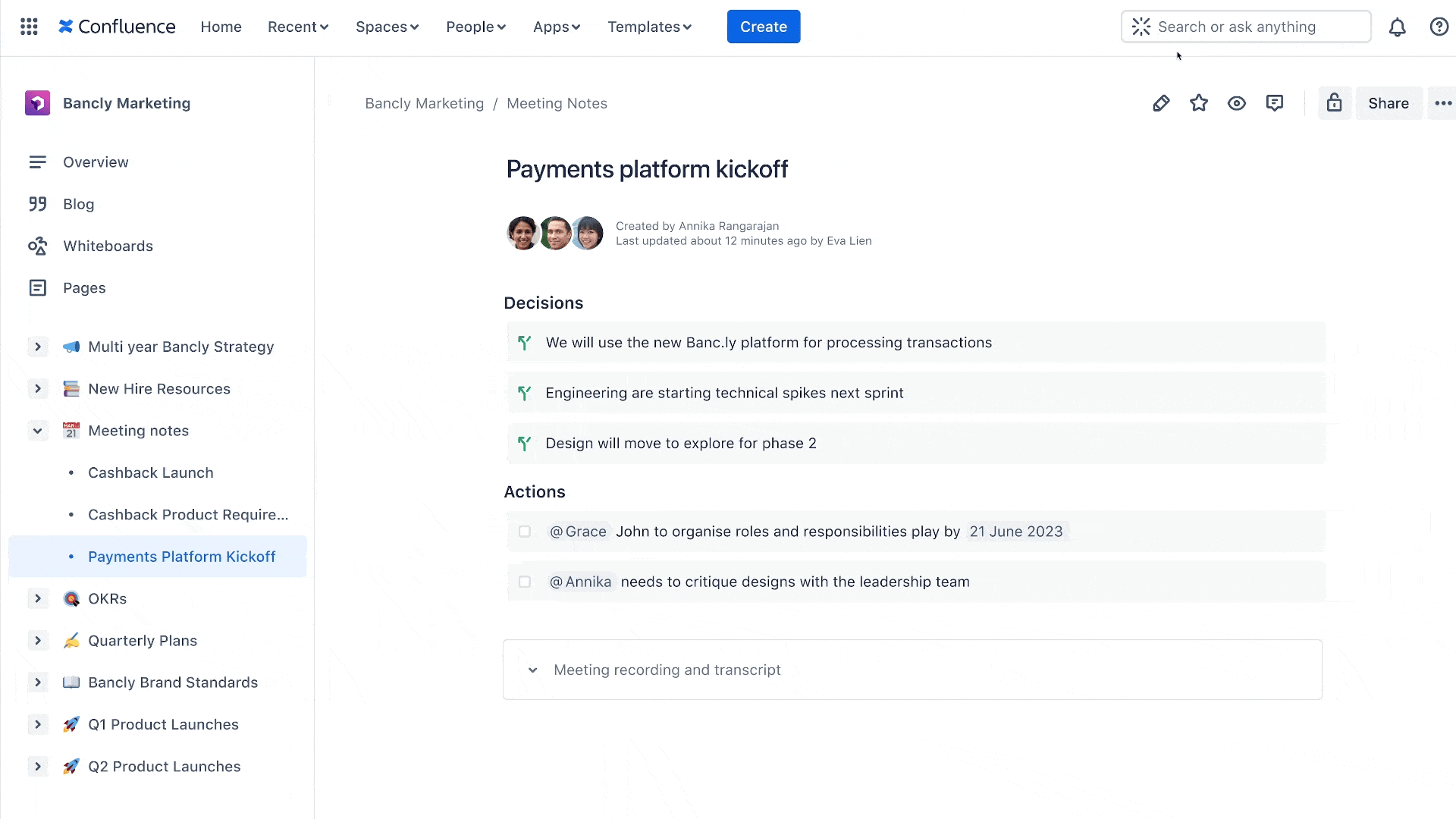 Explanation: Atlassian Intelligence provides an instant answer to a question based on the content of a plan in Confluence.
Leverage the power of Jira Query Language (JQL) to find issues across all Jira Cloud products. Explanation: Atlassian Intelligence quickly translates a natural language query into Jira Query Language (JQL).

Generate insights using data from multiple sources in Atlassian Analytics, a hub for analysing and visualising data from Atlassian products and connected third-party tools, without needing to know SQL. Explanation: Atlassian Intelligence quickly translates a natural language query into a SQL prompt.
Meet Atlassian Intelligence
Source : https://www.atlassian.com/software/artificial-intelligence